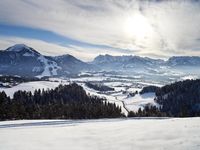 Walchsee
Number of customer reviews:
370
Resort
Ski area
Details to the customer reviews
Number of customer reviews:

370
These reviews are sent by our customers, who have already spent a holiday in this accommodation and in this resort.
When booking a holiday with us, you will have the possibility to fill out an online questionnaire regarding details of the holiday, after you have returned.
Walchsee is located right on the shore of the lake at an altitude of 668 m. The sunny resort is situated in the centre of a picturesque landscape at the foot of the Zahmen Kaiser. Winter hikers and cross-country skiers can take off from the Walchsee on vast tours, curling fans and ice skaters will thoroughly enjoy the lakes that have frozen over and adventurers will get their money's worth with an extensive snowshoe hike! Not only children's pulses will be racing at a tobogganing party at the local tobogganing run. Skiers can get to the Zahmer Kaiser lifts in a matter of minutes, and the lower mountain pastures can be reached by ski bus.



Nights
Travel
Lift pass
FROM
Double room, shower/wc (economy), BB
3 - 7
£99
Double room, shower/wc, BB
3 - 7
£114
Family room, shower/wc, BB
3 - 7
£114
Junior suite, sleeps 3, BB
3 - 7
£114
Single room, shower/wc, BB
3 - 7
£114

Nights
Travel
Lift pass
FROM
Apartment, sleeps 5 (approx. 45 m²), SC
7
£126
Studio, sleeps 2 (approx. 24 m²), SC
7
£150
Apartment, sleeps 3 (approx. 35 m²), SC
7
£158

Nights
Travel
Lift pass
FROM
Apartment, sleeps 4 (approx. 55 m²), SC
7
£142
Apartment, sleeps 4 (approx. 20 m²), SC
7
£158
Apartment, sleeps 6 (approx. 55 m²), SC
7
£158

Nights
Travel
Lift pass
FROM
Studio, sleeps 2 (approx. 20 m²), SC
7
£182
Studio, sleeps 3 (approx. 35 m²), SC
7
£190
Apartment, sleeps 4 (approx. 45 m²), SC
7
£222
Apartment, sleeps 4 (approx. 55 m²), SC
7
£246

Nights
Travel
Lift pass
FROM
Double room/2 addl. beds, shower/wc, HB
4 - 7
£270
Double room/addl. bed, shower/wc, HB
4 - 7
£270

Nights
Travel
Lift pass
FROM
Double room, shower/wc, BB
7
£309
Single room, shower/wc, BB
7
£341