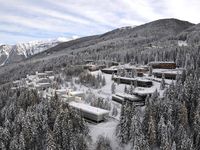 Marilleva 1400
Number of customer reviews:
39
Resort
Ski area
Details to the customer reviews
Number of customer reviews:

39
These reviews are sent by our customers, who have already spent a holiday in this accommodation and in this resort.
When booking a holiday with us, you will have the possibility to fill out an online questionnaire regarding details of the holiday, after you have returned.
Marilleva belongs to the Mezzana locality and has two centres, one situated at 900 m and the other at 1,400 m. One can travel to the higher district by car or comfortably with the gondola. The infrastructure in laid-back Marilleva 1400 is laid out so that everything is easy to reach without a car. The lifts run from here into the ski area, which is connected with bordering ski areas of Folgarida and Madonna di Campiglio. If you haven't had enough snow by evening, you can take advantage of the floodlit pistes in Marilleva 1400.





Snow depth
Day of measure
Not specified
Snow depth valley
Not specified
Pistes open (in km)
Not specified
Snow depth mountain
Not specified
Piste conditions
Not specified
Snow condition
Not specified
Toboggan run open
Not specified
Last snow fall
Not specified
Half-pipe open
Not specified
Lift open
Not specified
Snow park open
Not specified
Webcams:
Valley run
Not specified

Valley station weather
Today

Tomorrow

Fri, 04.09.2015

Sat, 05.09.2015

Sun, 06.09.2015

Min. temp.
11 °C
8 °C
8 °C
6 °C
Not specified
Max. temp.
15 °C
16 °C
13 °C
14 °C
Not specified
Hours of sunshine
3 h
5 h
4 h
2 h
Not specified
Fresh snow
0 cm
0 cm
0 cm
0 cm
Not specified
Snowfall line
3,210 m
3,030 m
2,870 m
2,510 m
Not specified
Details
Details
Details
Details
Details

Mountain station weather
Today

Tomorrow

Fri, 04.09.2015

Sat, 05.09.2015

Sun, 06.09.2015

Min. temp.
8 °C
5 °C
5 °C
3 °C
Not specified
Max. temp.
11 °C
11 °C
9 °C
9 °C
Not specified
Hours of sunshine
3 h
5 h
4 h
2 h
Not specified
Fresh snow
0 cm
0 cm
0 cm
0 cm
Not specified
Snowfall line
3,210 m
3,010 m
2,870 m
2,510 m
Not specified
Details
Details
Details
Details
Details

Climate
2014
2015
Oct
Nov
Dec
Jan
Feb
Mar
Apr
May
Jun
Jul
Aug
Sep
Hours of sunshine
5 h
3 h
4 h
5 h
6 h
6 h
7 h
6 h
7 h
9 h
7 h
9 h
Amount of precipitation
6.7
138.6
48.9
58.0
84.2
57.1
28.3
12.8
0.0
0.0
0.0
0.0
Days of rain
1
10
9
8
8
14
7
4
0
0
0
0

Currently
Snow report
Mountain station
Currently
Snow report
Valley station
Previously
Snow report
Mountain station
Previously
Snow report
Valley station

Weather data source: ZAMG
Snow data source: Schneehoehen.de

| | | | | |
| --- | --- | --- | --- | --- |
| | Morning | Midday | Evening | Night |
| | | | | |
| Temperature | | | | |
| Wind speed | | | | |
| Fresh snow | | | | |
| Snowfall line | | | | |