Customer review
Czech Republic
590 Number of reviews:
89 % Recommendation rate:
Cheap ski holidays in the winter nation Czech Republic
Winter holiday for beginners and families with children - with these factors, the meets you all the way! Diverse lowland mountains with a fine selection of gorgeous ski areas with prepared pistes and cross-country trails guarantee loads of fun. The northern Giant Mountains caters especially to beginners looking for diversity and stands out from other ski destinations with its numerous toboggan runs and magical winter hiking trails.
Regions Czech Republic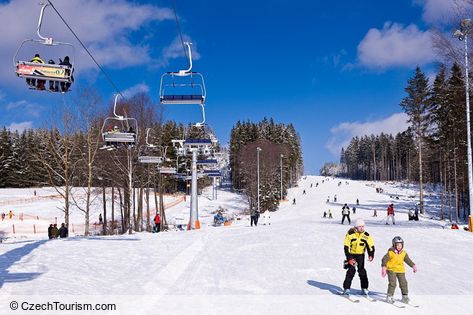 Bohemia
The Bohemian Forest is a mountain chain which stretches along the German and Czech boarder and extends over 200 km in total. Although it is one mountain range, depending on where you are, it is called differently: on the German side people speak of the Bavarian Forest, in the Czech Republic they call it Šumava and in Austria it is known as the Bohemian Forest. It is dotted with a number of smaller ski areas, all with their very own special charm. So you have a range to choose from. Generally all ski areas provide soft hills and a ski crêche for the little ones, but also some more challenging pistes which lead through wonderful winter forest landscapes.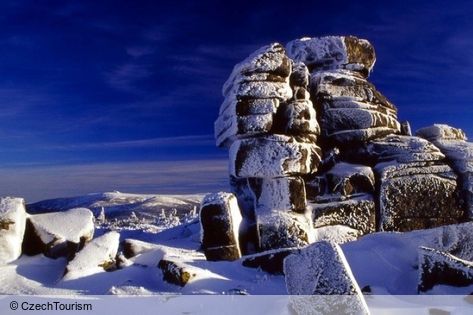 Krkonoše
The highest and most well known mountain range in the Czech Republic are the Giant Mountains. It consists of the skiing regions Špindlerův Mlýn (Spindler's Mill), Harrachov, Pec pod Snezkou, Janske Lasne and Rokytnice nad Jizerou, as well as the highest peak of the mountain range, the Sněžka (Snow Top, 1,602 m). Here you will find the best equipped skiing stations in the Czech Republic! Due to the fantastic tourist infrastructure many world and continental cups as well as ski jumping contests have been regularly held in Harrachov. This region is especially attractive for those who are looking for moderately priced ski holidays.
Resorts Czech Republic
Resort (region)
Pistes
Ski area altitude


from

–

up to

47 km
763 - 1,244 m
2.5 km
685 - 788 m
8 km
650 - 1,020 m
1.9 km
706 - 791 m
9.5 km
540 - 1,000 m
47 km
763 - 1,244 m
12 km
721 - 1,028 m
13 km
830 - 1,215 m
28 km
702 - 1,235 m
8 km
854 - 1,202 m