Cheap ski holidays in the winter nation USA
In the USA, beginners as well as pros will experience pure ski enjoyment during their winter holiday. In the snow-surest regions of the U.S., you'll find the largest ski areas, which provide snowboarders as well as skiers steep pistes, Champagne powder, forest funs and snowy slopes. From the celebrity hotspot to rustic mountain villages, there's something for everyone here that will help make your winter holiday incredibly special.
Regions USA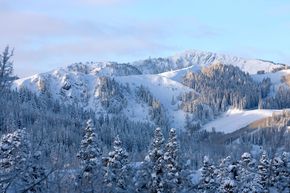 Utah
Utah is located in the Western region of the USA and is famous for its dry powder snow, the "greatest snow on earth". Here you get almost double the amount of snow compared to other US ski areas - a dream for deep powder snow fans! The choice of ski areas is also diverse here. It's only a stone's throw from the capital Salt Lake City, where the Winter Olympics 2002 were held, to Park City which is the largest interconnected ski area of the United States. On top of that deep powder snow paradises await in the Deer Valley, with some of the most challenging ski areas worldwide in Alta and Snowbird.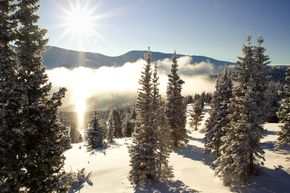 Colorado
The largest and most well-known ski areas in North America are found in Colorado. Skiing at 4,000 m above sea level – no problem in Colorado. With 300 days of sun per year and an average snowfall of over 8.5 m, skiing becomes a true experience. Thanks to the large ski areas and fast lifts, waiting times at the lifts is short or there is hardly any crowding on the slopes.
Resorts USA
Resort (region)
Pistes
Ski area altitude


from

–

up to

250 km
2,080 - 3,049 m
234 km
2,457 - 3,433 m
143 km
2,743 - 3,676 m